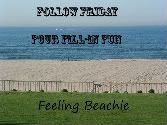 Hilary over at Feeling Beachie hosts this fun Friday meme that I thought I would try this week. So, welcome to my edition of the Follow Friday Four Fill in Fun Blog Hop!
This week's statements:
1. When I am tired, I always drink more coffee.
2. Coffee is my favorite of the food groups. It is a food group, right?
3. The coffee maker is the most important appliance in our house.
4. If only I weren't sick, then I would have been able to drink my usual amount of coffee today, and everyone would be happier. Especially me.
If you would like to take part in the Friday fun, visit Feeling Beachie for more info!